Boston: Shows [Week of 10.02.06]
10.02: Built To Spill @ The Roxy
10.02: Wolf Eyes @ Great Scott
10.03: The Cat Empire @ The Paradise
10.04: Spank Rock @ Great Scott
10.04: The Teeth/Age Rings @ T.T. The Bears
10.04: The Secret Machines @ Avalon
10.05: Harvey Danger @ Great Scott
10.05: Damien Jurado @ T.T. The Bears
10.05: Two Gallants/Langhorne Slim @ Middle East Up
10.06: The Pill's 9th Anniversary @ Great Scott
10.06: Nightmare Of You @ Middle East Down
10.07: Brazilian Girls @ The Paradise
10.08: Islands @ Middle East Down
10.08: Cities/Village Green @ Great Scott
10.08: Michael Ian Black & Michael Showalter @ The Paradise
10.08: The Melvins @ Axis
So I am still addicted to
The Tube
eventhough they are showing a shitty Gavin DeGraw video right now. Despite today being a washout, things were pretty awesome around the city this weekend, especially with all of the bands playing
NEMO
. I was expecting great things out of Ladytron, Be Your Own Pet and CSS, and that is exactly what I got, but the real surprise were

The Black Lips

. I came early to check them out at the Middle East, and I spent the entire set going back and forth over them, but on the way out after BYOP's set, I decided that they were the highlight of the weekend. Beyond that, the blogger panel went well -- it was nice to connect with some of my local peers, as well as field questions from the audience of musicians/journalists/industry folk.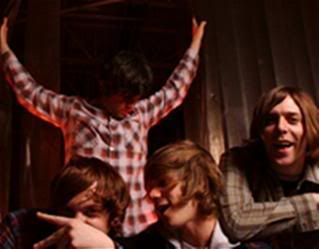 10.08: Cities/The Village Green @ Great Scott
There are a lot of people out there that will say a remix EP is totally frivulous, especially one that drops six months after a debut full-length. North Carolina's
Cities
have plenty of reasons to disagree with this, especially when they drafted the help of such luminaries as Ladytron and Daedelus to rework their nuanced, dark indie rock tunes. The layered brilliance of their debut is picked apart on this EP and reassembled, slowed down, sped up and distorted in a way that reminds the listener why remixes were interesting in the first place. The band's show on Sunday at Great Scott probably won't be a dance party, but it will showcase their tunes that were so expertly deconstructed on
Variations
[21+; $8; 9 pm]
MySpace:
Cities
Audio:
"Writing On The Wall [Ladytron Remix]"