Boston: Shows [Week of 09.25.06]
09.25: Snowden @ Middle East Up
09.26: Clap Your Hands Say Yeah/Architecture In Helsinki @ Avalon
09.26: The Mountain Goats @ Middle East Down
09.27: The Mobius Band @ Great Scott
09.28: Diamond Nights/Hector on Stilts/The Go Station/The Motion Sick @ Middle East Up
09.28: Yo La Tengo @ Avalon

09.29: The Raconteurs/Dr. Dog @ The Orpheum
09.29: Dr. Octagon/7L & Esoteric/Kabir @ Middle East Down

09.29: La Rocca @ O'Briens
09.29: Frank Smith @ T.T. The Bears
09.29: The Hourly Radio @ Middle East Up

09.30: Be Your Own Pet/The Black Lips @ Middle East Down
09.30: Ladytron/CSS @ Avalon
09/30: Read Yellow/Jake Brennan/Foreign Islands @ Great Scott
10.01: Bettie Serveert/The Slumber Party @ Middle East Down

Few things can rip me away from baseball, especially fall baseball, but the Sci-Fi Channel had something great on tonight --

Back To The Future

. It's a movie so good that I've probably watched it over 100 times. And although my beloved Baltimore Orioles are way out of the playoff race as usual, my hometown Phillies have been red hot as of late and are now in the lead for the NL Wild Card with one week left in the season.

Lots of shows are going down this week, and this weekend should be pretty crazy with NEMO going on, and I've picked and choosed some of the better shows, but if you want the full list, you will have to go the website.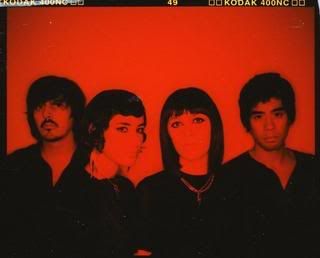 09.30:

Ladytron

/

CSS

@

Avalon
Despite Ladytron being around for years, I have yet to see them and when a band is on their third album, they are normally owning the moment and totally confident. Sometimes electronic acts can falter live, but those things that may trip up others are strengths for Ladytron, a group that never forgets to add life to their music. Opening is the always ready to party CSS, who I missed when they played Great Scott over the summer, a show that was undoubtedly soaked in alcohol and sweat. I'll be there this time [$17.25; 7pm]


MySpace:

Ladytron


Audio:

"Seventeen [Soulwax Mix]"