The Hard Tomorrows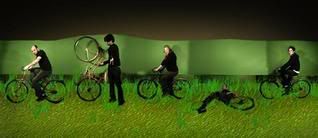 After
Q And Not U
announced that they would disband during the fall of 2005, everyone in Washington DC worried about the future of the city's music scene. At the time, I looked around DC and honestly felt sorta underwhelmed. Seeing
The Evens
at Operation Ceasefire reminded me of that painful sound that fingernails make on a chalkboard. Chris Richards' post-Q And Not U project,
Ris Paul Ric
, was okay, but the eclectic album and borderline bizarre live experience didn't live up to my expectations by a long shot. And while there are a ton of other bands from the District that are good, none of them are great--think
Supersystem, The Washington Social Club, Army Of Me,
and my personal favorite
(The Sounds of) Kaleidoscope.
While (The Sounds of) Kaleidoscope certainly write broodingly, hypnotic songs, I think it's pretty clear that they haven't yet developed into the band that they could be. But after 11 years of playing together, maybe that day will never come.
At the tail end of the winter, I randomly came across a young band whose debut demo just blew me away. After listening to five songs of indie rock bliss, it was easy to declare
The Hard Tomorrows
as the best thing to come out of the DC music scene in years.
After months of writing and recording, the band released their self titled debut just a couple of weeks ago. Though it hasn't yet been reviewed by
Pitchfork
, I believe that this is one of the best albums of the year and just a terrific debut. The opening strains of "Take Down" really set the tone for the rest of the album with the pounding drumbeat mixing with aggressive guitar and punchy basslines. The song is like a train with no brakes--it keeps speeding up and the tension keeps building until the violent explosion at the end. That's not to say that The Hard Tomorrows are even remotely related to hardrock or hardcore or anything hard sounding, they're not. Their music is total indie rock, featuring hard downbeats, brillliant hooks, and gorgeous harmonies--elements that almost belie the intense undercurrent of the songs themselves ("Stop and Shoot," "Glossy Eyed Sweetheart," "Fences Around Lawns").
The second half of the album finds The Hard Tomorrows moving into new sonic territories, creating textures reminiscent of sunny Americana, jazz, and even the circus. "Counterfeit" is a rowdy, foot stomper that seems to be the young relative of southern honkytonk. It makes me want to drink whiskey and rub up against someone, if you know what I mean. In contrast, the jazzy "Wrecking Ball" feels like a night of drinking red wine--it starts on a quiet and sophisticated note, but as it goes on things get disorientating and aggressive until the regret starts to sink in. The song is gorgeous and heartbreaking simultaneously.
I cannot find enough good things to say about this album. In a musical climate where music seems to be either catchy or challenging, it is refreshing to find a band that can do both. And oh yeah, the album artwork is incredible.
Buy:
The Hard Tomorrows
Myspace:
The Hard Tomorrows
Audio:
"Take Down"
Audio:
"Patterns"