The Young Knives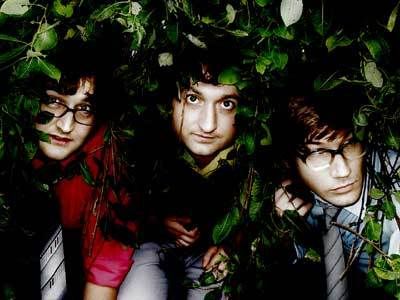 The Young Knives
formed nine years ago in Ashby-de-la-Zouch, a small town in Great Britain with an awesome name and an unfortunate lack of a music scene. Playing bad funk and cover songs, the band ultimately split up when the members moved away to attend different universities. By 2002 the band reformed in Oxford, however their time apart influenced them to start playing an altogether different style of music--punk. Things seemed to go tremendously well at first. Hot off the heels of releasing their first EP
The Young Knives... Are Dead
on Shifty Disco, the band was asked to support bands like
Har Mar Superstar
and
Hot Hot Heat
on tour. But their upward motion quickly stalled due to the band's "inability to promote themselves."
Luckily, The Young Knives kept at it. In the last 18 months, the band has just exploded (well, in relative terms). They've played alongside Exitfare favorites like
Dirty Pretty Things
,
The Rakes
, and
The Chalets
and rocked huge crowds at SXSW, V Festival, and Get Loaded on the Park. And finally, after releasing a number of well received singles and music videos, The Young Knives put out their long awaited full length album
Voices Of Animals & Men
on August 21st.
Although I was initially thrown by the band's goofy and nerdy persona (i.e. one band member goes by the name "The House of Lords"), their music is anything but. Lead singer Henry Dartnall has a hard edged voice and a killer scream that works perfectly with his spastic guitar playing. Coupled with the thumping bass laid down by The House of Lords and hard driving drumming of Oliver Askew, the songs just explode with a tense energy. "Weekends & Bleak Days" is not to be missed, I bet the kids in London are dancing to it in a darkened pub right now.
Buy:
Voices of Animal and Men
Myspace:
The Young Knives
Audio:
"Weekends and Bleak Days (Hot Summer)"