Boston: Shows [Week of 09.18.06]
09.18: Golden Smog @ The Paradise
09.19: The Electric Six/Aberdeen City/The Blue Van @ Middle East Up
09.19: Drive By Truckers/Bobby Bare Jr. @ Avalon
09.19: The Working Title @ T.T. The Bears
09.19: Eric Bachmann @ Club Passim
09.20: The English Beat @ Middle East Down
09.20: Dengue Fever @ T.T. The Bears
09.20: Apollo Sunshine @ The Paradise
09.21: Jedi Mind Tricks @ Middle East Down
09.22: Lambchop @ The Paradise
09.23: Sunset Rubdown/Baker @ Middle East Down
09.23: Juan McLean @ T.T. The Bears
09.24: Adam Green @ Middle East Up
It's the end of the summer and I haven't really been feeling like doing the show thing. I just got back from The Paradise, but I only caught

Mew

as I was too tired to stay for Kasabian.
NEMO
, which starts in ten days,. should kick start my interest in shows. This week and next week will feature a number of show previews, plus a lot of great new music. There are a lot of great shows this week, but honestly, nothing that I am that interested in checking out, so there's no show of the week.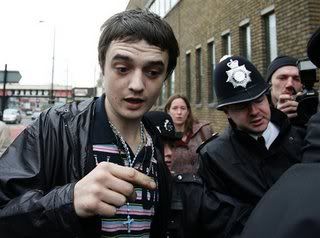 In between getting arrested for doing smack in public, dating the transparent Kate Moss and appearing in

The Daily Mirror

almost daily, Pete Doherty had time to record [ie - phone in from prison] a remix of "Prangin' Out" with his boy Mike Skinner.



Audio:

The Streets [f/ Pete Doherty] "Prangin' Out"