Sound Team: Debut Album Drops Today!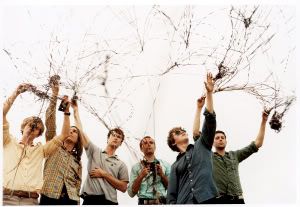 Happy Sound Team album release day! See why all the hype is true and grab yourself a copy of

Movie Monster

at one of the following places:

-iTunes
-Newbury Comics

That way you can enjoy the album as the world comes crashing to an end today.

If you grab the album at iTunes, you get an exclusive Tunebook – which includes short videos, the music video for "Your Eyes Are Liars," a photo gallery, tracklisting and lyrics, plus "Surfing" - a 22 minute movie created by Bill Baird with an original score.

Check out a preview of one of the short videos here [Quicktime]. There are a handful of these shorts out there, and once I know which blogs they are on, I'll be sure to link up.

MySpace: Sound Team
Audio: "Your Eyes Are Liars"
Audio: "Movie Monster"