Flashback Tuesday: Moped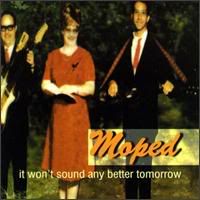 As a teenager, I picked up on all of the usual suspects through college radio, from Fugazi and Jawbox to Superchunk to Guided By Voices, but there are a fair share of bands that never caught on that I still love to this day. Philly-area group Moped are one of those outfits that I still can not get enough of. They started out as a duo comprised of Bret Tobias and Bob Vanstone, and were later joined by Kara Lafty, who fleshed out the band's sound as well as wrote some of their most unforgettable songs. On the Tobias-penned tunes, the group was more or less Superchunk-lite, but when Lafty took the reins, Moped became everything that I wish Velocity Girl was: smart, bittersweet and not afraid to rock out. Unfortunately, they stuck together for only three years with in-fighting taking the band down.

Currently, Tobias is playing in The Bigger Lovers while Lafty spent time in Sonny Sixkiller and is now fronting The Jane Anchor.

Buy:

The Horrible Truth About Moped


Audio: "Tom Waits For No One"
Audio: "Local 206"