Flashback Tuesday: Air Miami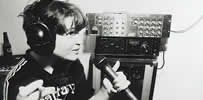 I was never into Unrest that much, but following their demise in 1994, Mark Robinson and Bridget Cross went on to form the much more appealing Air Mimai. The new band existed in the same oddball/quirky pop sphere that Unrest totally owned, but they had an edge with a handful of refined and highly addictive pop songs.

Me. Me. Me.

, their only full-length release, went from wistful pop to noise-addled masterpieces, but after label troubles and Robinson's penchant to explore, the band dissolved in 1996.
The EP

World Cup Fever Remixes

surfaced posthumously in 1998, but Robinson had already gone
on to form Flin Flon.


Buy: Air Miami releases
Audio: "I Hate Milk"
Audio: "Definitely Beachy"