SXSW Preview: Oppenheimer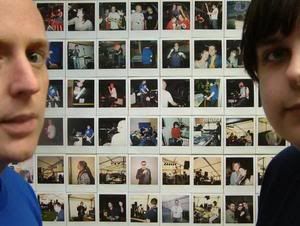 I apologize for the lame posts this week, but I've just been ridiculously busy at work. My plate is quite full and on top of that, SXSW is right around the corner. While I am lucky enough to be going down to Austin to see a ton of great bands, it's definitely going to be draining, so hopefully I can catch up on sleep beforehand!

Belfast [Ireland] two-piece Oppenheimer make me feel good, like the first time I heard The Rentals or when my friend slipped me a Stereolab cassette when I was in 11th grade. The band expertly strings together all of the lighter moments of life, wrapping them up in inviting keyboard-inspired voyages. Look for their debut album on Bar/None in June, as well as a rumored collaboration with Tim Wheeler of Ash. They're playing the Bar/None Showcase at SXSW on March 17th at 9PM at Friends [208 E. 6th St.].

MySpace: Oppenheimer
Audio: "Breakfast in NYC"