Hard-Fi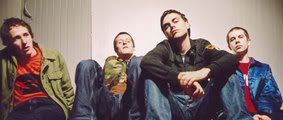 I am back after spending some time in D.C. and with the family back in PA. It was definitely a good break, one that was definitely needed after a busy 2k5.

Hard-Fi's debut album Stars of CCTV was one that I spent a lot of time listening to this year, yet I always found myself skipping the same two or three tracks, which kept it off of my year end list. The band is influenced by the usual crew, such as The Specials and The Clash, but they are able to do a little more than throw down a funky dance beat in a paint-by-numbers rocker. According to the Atlantic Records website, the album will finally be released stateside early next year, and the band has a full headlining tour booked. Dates are as follows:

01/16/06: Middle East - Cambridge, MA
01/17/06: Bowery Ballroom - New York, NY
01/18/06: Red Square - Albany, NY
01/20/06: Horseshoe Tavern - Toronto, ON
01/21/06: Magic Stick - Detroit, MI
01/22/06: Metro - Chicago, IL
01/24/06: Grand Emporium - Kansas City, MO
01/26/06: Stubb's BBQ - Austin, TX
01/28/06: TBA - Phoenix, AZ
01/29/06: Brick By Brick - San Diego, CA
02/01/06: Troubadour - West Hollywood, CA
02/02/06: Popscene - San Francisco, CA
02/04/06: Berbati's Pan - Portland, OR
02/05/06: TBA - Seattle, WA

I am guessing that they are still firming up dates for this tour, as well as lining up support. There are some venues that are TBA and two major markets are completely absent from the itinerary: Philly and D.C., but those cities were not represented during the recent Go! Team tour, either.

Audio: "Living For The Weekend"