The Maccabees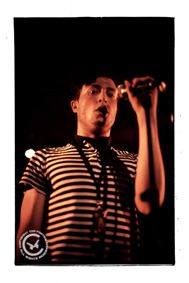 The Maccabees hail from the United Kingdom, Brighton to be exact and remind me of The Wedding Present and Gang of Four. The bio on their website is pretty funny, here are some of my favorite lines:

"Bouncing, brash, befuddled, The Maccabees invoke all those primal urges you've had in the past couple of years about the renaissance of the British scene."

"The Maccabees have grown that glint in their eye and the spring in their step that comes from the knowledge all that hard work is paying off. The mischievous grin always looking for adventure ever present, The Maccabees bring that deviance which everyone needs from their rock and roll."

A note for you nerds out there [which is everyone reading this], The Maccabees have worked with producer Gil Norton, who produced the Pixies' Doolittle. There are no plans for an album as of yet, but they have a single out for "X-ray."



Here are their upcoming shows:


December 9th

@ Escobar, Wakefield
Doors at 8pm.


December 10th
Bad Sneakers @ The Faversham, Leeds
w/ the hair and dirty robbers
7.30- 11pm
£5/ £4 in advance from Jumbo Records


January 14th
Club Fandango @ Lennons, Southampton
For more info go to www.longliverockandroll.com


January 27th
Drowned in Sounds Six tips for 2006 @ Barfly, London
w/ Jamie T, Forward Russia + more..

Audio: "Lego"