Wintermute: Debut Album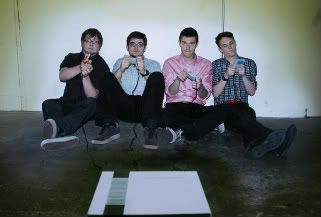 [Photo Credit: Gianna Goulding]
Myspace
//
"Spanish Girls"
[Audio]
After the tentative EP release of '08, Wintermute will finally get an official release this April with their debut album on
Big Scary Monsters
.

Robot Works

will contain twelve songs, including the entirety of the aborted EP. The album will be preceded by the single "Dead Or Not He Was Wearing Sunglasses," which will be a free download on the BSM site, backed with the b-side "I Abandoned My Boy."
Before tours further afield, the band will be doing a handful of dates on their home soil to promote the releases.
29th Jan - London, The Fly
30th Jan - Leeds, Upstairs @ the Library - SINGLE LAUNCH!
31st Jan - Newcastle, The End
7th Feb - Middlesborough, Uncle Albert's
12th Feb - York, Fibbers
Labels: Big Scary Monsters, Leeds, Wintermute