Twisted Charm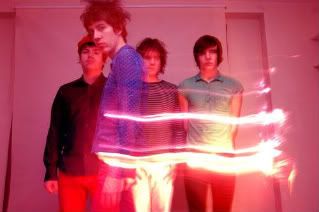 Photo Credit: Gregory Nolan
Myspace
//
"London Scene?"
[Audio] //
"London Scene?
[Video]
London's Twisted Charm subscribe to absolutely no rules, they just do whatever they feel is right. They're a Britpop band that draws influence from the likes of the Jam, the Specials, and even James Chance, and that's to say they're a best friend with some very dark secrets. They've been knocking about for quite some time as their debut album,

Real Fictional

, came out last year on
Because
. While some may just call them art schools kids making a racket, they obviously have their eyes set on something much bigger than any one scene.
Labels: Because Records, London, Twisted Charm