2009: Bands to Watch
Before we look back at 2008, we're going to look forward to those bands who are bubbling just under the surface and are poised to make '09 their breakout year. Last year we called a few winners, including Johnny Flynn, Late of the Pier, Chairlift, and Foals. I started to jot down a list today while at work, but I stopped at ten, so it looks like this is going to be an exciting year. Here are five of my favorites, and Beth will follow later this week with hers.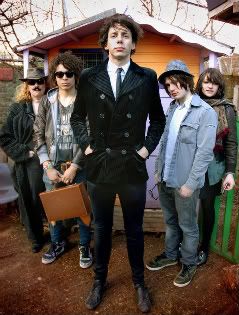 [Photo Credit: Jacob Perlmutter]
The More Assured
: If you search this London band on Youtube, you will find countless videos, from fan shot live clips to one of their three professionally shot promo videos. Look for "I Want Your Despair," which is excellently directed by Jacob Perlmutter, because it perfectly encapsulates this band. There is a certain style that you can't put your finger on, matched up with their take on post-Libertines jangle. According to the band, we can expect a debut album sometime this year which will no doubt increase the size of their cult across the capital and beyond.
"I Want Your Despair"
[Audio]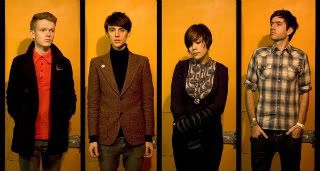 Grammatics
:

If Cursive were from West Yorkshire, this is very well what they might sound like. These guys aren't all cellos and emotions though -- they have a musical depth that combines cosmopolitan pop music with the ebb and flow of big rock. They are the results of well laid plans and a band whose stock should increase considerably with the release of their debut album.
"New Franchise" [Audio]
[Photo Credit: Nick Pomeroy]
Pull in Emergency
:

The best bands are those that force you to forget about the hype or any of the details to just focus on the music. With two singles under their belts, this five-piece outfit do just that by creating music that is better that the rubbish produced by bands ten years their senior, and what's even better, they add to their arsenal with each new song.
"Follow"
(demo) [Audio]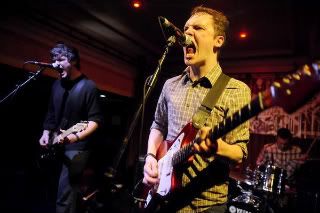 [Photo Credit: Danny North]
Wintermute
:

Bloc Party may not have been the band to signal England's seachange into dance rock, but Silent Alarm is arguably not just the scene's best album, but one of this decade's best. In the months leading up to that record, I could sense something pretty special was around the corner, and now I get that same feeling with Leeds' Wintermute. The band's debut album is tentatively scheduled for late April and it will include tracks from their shelved EP Fun With Wizard Stencils. They can really take the city and the whole country.
"Spanish Girls"
[Audio]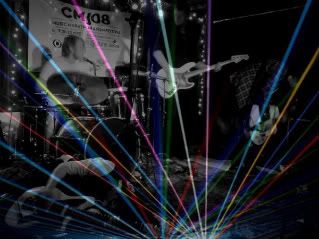 Simon Says No!
:

I was already a fan of these guys when I saw them at Rehab during CMJ, but by the end of that set, I was sold for life. This was a band that combined the psychedelia of My Bloody Valentine with the unpredictable energy of Refused, but more importantly, they had instantly memorable songs. Their debut EP Ahoi de Angst hits shops on February 2nd through Spoon Train Audio in Norway, as well as iTunes worldwide. Look for them at this year's SXSW.
"Sleeping Heart"
[Audio]
Labels: Grammatics, Leeds, London, Norway, Pull in Emergecy, Simon Says No, The More Assured, Wintermute