Rubik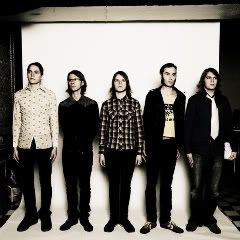 Myspace
//
"Hinges"
[Audio]
Finnish group
Rubik
effectively channel their surroundings, much like Mew, in creating a bombastic indie sound that teeters between aggressive and fragile. While they may be guitar-driven, they use all of the tools are their disposal, including a great mix of electronic tones.
Formed in 2002, the band released their debut album

Bad Conscience Patrol

in 2007, drawing comparisons to Radiohead and Sigur Ros. The album debuted at #7 in their home country and even gave them their first hit single "City & the Streets." The band has toured the US, Germany, and the UK, and this April will see the release of their new album,

Dada Bandits

, is out on April 1st in Finland.