Pulled Apart By Horses: New Single and Tour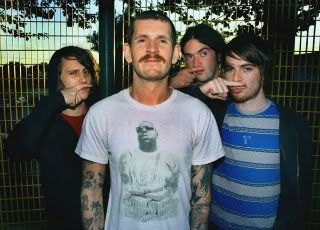 Myspace
//
"The Lighthouse"
[Audio]
Last February was the
first
(and only) time we posted about a band before we heard their music. It's not something we like to do because we don't want to get saddled with covering shit bands (although, rather ironically, we've covered our fair share of them WITH hearing the music), but we rolled the dice with this Leeds quartet because we were convinced that they were up to something very special.
Three days later we were rewarded with an absolutely wonderful digital gem called "High Five Swan Dive Nose Dive." The song made our cold winter days go by a little faster with its stunning bouts of musical tomfoolery. It was the sound of 100 bodies smashing against one another at the sweatiest house party ever.
The band's next single, a double A side featuring "I Punched a Lion in the Throat" and "The Crapsons," will be out on Monday, January 26th on
Too Pure
. There will be a nifty little tour (supporting Sky Larkin) going on later this month as well, but don't worry if you can't make it -- the band will be back on the road in March. All dates are on their Myspace.
Jan, 2009 UK Tour!
22nd Bristol, Louisiana
23rd Cardiff, Barfly
24th Nottingham, The Bodega
26th Glasgow, King Tuts
27th Manchester, Night & Day
28th Oxford, The Bullingdon
29th London, ICA
30th Brighton, Audio
31st Leeds, Brudenell Social Club
Labels: face melting, Leeds, Pulled Apart By Horses, Too Pure