Hatcham Social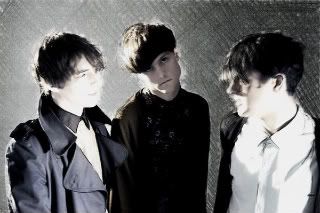 [Photo Credit: Nicola Pea]
Myspace
//
"How Soon Was Then"
[mp3] //
"So So Happy Making"
[Video] //
Crystal World
[Buy]
New Cross group
Hatcham Social
formed in '06 when David Javu met brothers Tobias and Finnigan Kidd, the latter of which left the Klaxons to focus on the new group. The band is influenced by '80s stalwarts like Orange Juice, Josef K, and The Fall, as well as The Kinks. Early on the band was championed by Farris Rotter (of The Horrors) and Tim Burgess (of The Charlatans), releasing their first single in early '07 and making their first live radio session in August of that year. While the band have the mini album

Crystal World

out in Japan, they are putting the finishing touches on a debut album, which was recorded with with Tim Burgess and Jim Spencer in August of this year.
Labels: Hatcham Social, London, New Cross