Simon Says No!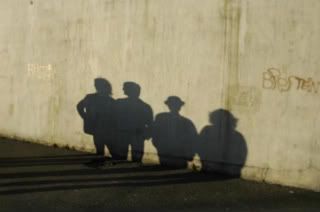 [Photo Credit: Julie Damkjær]
Myspace
//
"Para Cirkus"
[mp3]
While at the Great Escape in Brighton earlier this year, I picked up an EP from Bergen, Norway group Simon Says No!, and I had this to say:
"If a band does not try to emulate their heroes, then something is very wrong. Rock n' roll should be about danger and passion and musicians are supposed to incite a desire to rebel and break the rules. While Norway may not be ground zero for the global music scene, there seems to be something pretty special going on there, which is apparent with the emergence of Simon Says No! This is a band that knows their strengths, things which they know how to get the most out of. Their raw sound recalls the glory days of Seattle grunge and the spirit of '77 in London, but the band is nuanced enough to flesh things out with a fuzziness that wouldn't seem out of place at a Slowdive or My Bloody Valentine gig. The interwebs has begun a love affair with these guys, most recently with a "Band of the Week" nod on Stranded in Stereo as well as some radio love from NRK P3, which is their home country's leading station. The band's current three song demo is everything you could ever want from a budding band -- it's both familiar and new, it pushes buttons and it gives you that feeling that you had the first time you disobeyed your parents."
The band will be making their Stateside debut during CMJ with three gigs, including one that I am sponsoring on Wednesday night 10/22 at
Rehab
. Let's hope I see you there.
Labels: CMJ 2k8, Norway, Simon Says No