Cut Copy, Black Kids, Mobius Band @ the Paradise
Cut Copy // Myspace // "Lights & Music" [mp3]
Black Kids //
Myspace // "Hit the Heartbreaks" [mp3]
Mobius Band //
Myspace // "Hallie" [mp3]

Apparently, the Cut Copy/Black Kids/Mobius Band show at the Paradise last night was the hottest ticket in town because the venue was absolutely mobbed. Since it's that time of year, I imagine that most of the kids were probably celebrating the end of final exams or new bicycle purchases or whatever... but the place was packed with a tangible energy that I haven't felt at a show in Boston in a while.




Mobius Band went on first and their all too short set was ultimately a high point of the night. Their exuberant stage presence mixes well with their catchy melodies and electronic blips and beats, making for an enjoyable electro pop/indie rock show. Although it seemed to take a while for the crowd to get into the set, by Mobius Band's last song "The Loving Sounds of Static" a bunch of kids were dancing like crazy which I think says it all.

Black Kids followed and seemed to be the main draw of the night (something that I predicted would happen back
in October)
. It makes perfect sense, because the buzz band's upbeat synthesizer driven 80s pop is totally infectious. Songs like "Hit the Heartbreaks" and "I Don't Want to Teach Your Boyfriend How To Dance With You" got the entire crowd singing and dancing, even this hardcore looking dude in a ripped t-shirt was fist pounding along. I totally regret missing Black Kids multiple times at CMJ last year, because their set was a ton of fun.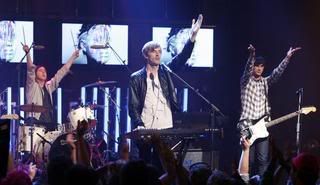 [Photo Credit: Kelly Kearney]

Cut Copy went on last and, although I never listened to the Australian group before the show, I enjoyed their electro funk/dance music. Though the crowd thinned out a bit after Black Kids, the ones who remained went nuts when Cut Copy took the stage and started dancing like crazy. Unfortunately, I was exhausted from a long day at work and forgot my light sticks so I went home a little early. But I am enjoying their songs now that I'm sitting on my couch (!!!).

Anyway, it was a totally enjoyable show so make sure to check out all three bands on their last few remaining tour dates.



5/13 - Studio B in NYC (Sold Out) - Mobius Band, Black Kids, Cut Copy



5/14 - Bowery Ballroom in NYC (Sold Out) - Mobius Band, T&T, Cut Copy
5/15 - Black Cat in DC - Mobius Band, Black Kids, Cut Copy
5/16 - Pure in Philadelphia - Mobius Band, Black Kids, Cut Copy
5/17 - Sonar in Baltimore - Black Kids, Ponytail, Cut Copy
Labels: Black Kids, Cut Copy, light sticks, Mobius Band