The Great Escape Preview: Operahouse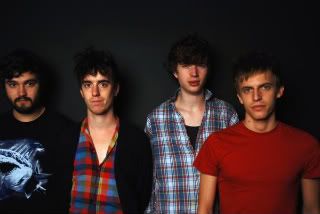 Myspace
//
"Telescopes"
[mp3] //
"Diane"
[Video]




Exitfare

is returning to England next month and we are going to spend a lot of time checking out some of our favorite new bands. Our time across the pond will culminate with three days at
The Great Escape
in Brighton, which will play host to 200+ bands, including some of those that have gotten a lot of ink in these pages, like The Wombats, Yeasayer, Futureheads and The Go! Team.


But we're going to focus on the upstarts, like North London quartet
Operahouse
, who create an excellent mix of sharp, punchy indie rock. They've caught the eyes and ears of Zane Lowe, Jonathan Ross and the

NME

, while their new single, "Diane," will be out on May 5th. Each time I look at the single's cover, I think the girl (Diane, I presume) is vomiting rainbows, but on second glance, it's apparent that the lights are coming from her eyes.

Look for them at
The Hope
on May 16th.
Labels: Operahouse, The Great Escape, vomiting rainbows