Cajun Dance Party: Album Out Today (UK)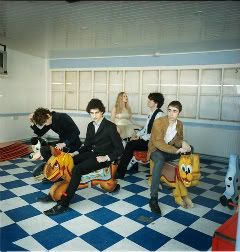 [Photo Credit: Jon Bergman]
Myspace
//
"The Hill, The View & The Lights"
[mp3] //
"The Next Untouchable"
[Video] //
"Amylase"
[Video]
As
Cajun Dance Party's
debut

The Colourful Life

drops today on
XL
, it seems that all eyes are on them, not only because of the hype surrounding them, but because of the psuedo-scene they are loosely associated with in London. As other teenaged bands like Pull in Emergency, FortyFives, Kets and Bombay Bicycle Club garner attention, it will be interesting to see if they have more than a few good singles in them.
The precedent that the Cajuns are setting is a good one. While their debut contains just nine songs, seven of which that were widely available as demos, the two new tracks are excellent and those familiar songs have been redone with surprisingly effective results. The tunes have been fleshed out without being superfluous, retaining the immediacy of the demos.

Look for the band on tour in the UK in July.

First

Exitfare

mention: 25 April 2007 (almost a year to the day)

"The Race"
Labels: Cajun Dance Party, London, XL Recordings