The Great Escape Preview: Stricken City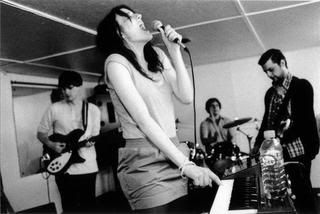 Myspace // "Better as a Girl" [mp3]

London has been producing a bunch of strong female fronted bands lately, the type of take charge post punk sirens that I could've used as a role model growing up. Stricken City easily falls into this category, as their singer/keyboardist Rebekah Raa slinks and screams her way through songs with as much ferocity as the next guy. Their early demos suggest a lot of promise, a band with a knack for writing infectious songs with a bit of bite. Taking notes from Siouxsie & The Banshees and Yeah Yeah Yeahs, I'd probably suggest that fans of The Duke Spirit and Ida Maria check them out at one of their multiple appearances at the Great Escape.

Labels: London, Stricken City, The Great Escape