Bobby Cook & the Sleepers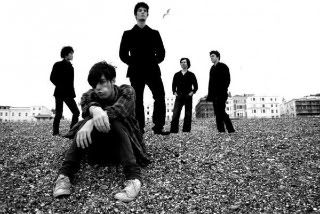 [Photo Credit: Nick Kiehl]
Myspace
//
"Secrets"
[mp3]


There are times when you really need to get inside a song to understand it, listening to it over and over until finally you break through, but there are those times when a song grabs you right away and has you hooked a few notes in.
This is definitely the latter.
While I've seen the name pop up from time to time, I didn't check out London's Bobby Cook & the Sleepers until last night, mostly due to the normal preconceptions. You know exactly what I'm talking about -- the world doesn't need another tortured guy on guitar, but Mr. Cook has his finger on something much more exciting, a sort of palatable energy brought together by marrying the soul of Bruce Springsteen with the epic post-millennial aspirations of The Arcade Fire. If you've ever wondered what those two outfits would sound like if they came together, than you need not look any further.
Those of you in London will be catching a lot of this guy, including appearances at the Camden Crawl, The Great Escape and a gig tonight at Under the Westway with The Brunettes.
Labels: Bobby Cook, Camden Crawl, London, The Great Escape