This Et Al: New EP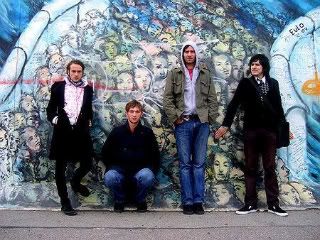 Myspace
//
"Wardens"
[mp3]
According to their Myspace page, Bloc Party/Cursive-insprired outfit
This Et Al
are set to release a new EP. From their missive:
We're delighted to announce our first release for far too long -- The Figure Eight EP. Recorded with our long time friend James Kenosha over December to February, it's released on 10" vinyl, CD and all digital formats nationwide (via On The Bone Records / Pinnacle Distribution) on Monday 28th April 2008. We have some splendid artwork courtesy of Chicago artist Diana Sudyka and it features four tracks ("Figure Eight," "Medicine Hammer," "Ice Age" and "(The Tale Of) Frosty Jackson)." Look at our player and our photo album for a free preview and a flavour of the artwork. We'll be heading out on a UK tour for the first time in a good while (where the EP will be available) so if you can't wait till release date, get down to a show!
A preview of the release and UK tour dates are up now on their Myspace page.