Foals: Album Out Today (UK)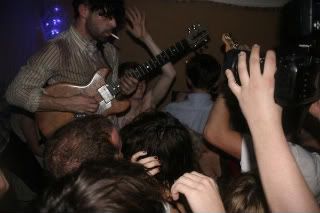 Myspace
//
"Cassius"
[mp3] //
"Balloons"
[Video] //
"Hummer"
[Video] //
"Matheletics"
[Video]
In the short span of the past fourteen months, Oxford group
Foals
have gone from art school dropouts with a dream to every hipsters favorite band of right this second. Despite being the
first American blog
to write about the band, we are not about to blow them off because they're too big for us now.
Antidotes

, which came out yesterday in the UK (and April 8th in the US through
Sub Pop
) is exactly what we wanted from the band. A fresh and excitingly off-kilter collection of tunes that are jerky enough to dance along with, yet are dissonant to make the fans of Dischord Records notice. The band is currently on the road from now until forever, so keep an eye open -- they'll be in your town soon enough.
"Cassius"