Back from Mexico/Shows In Boston This Week
I just got back from over a week in Mexico, exploring ruins, rain forests and small towns on the Yucatan Peninsula. The trip was amazing and I could go on and on about what I did and saw and how it is a totally different world than the States, but this a music blog, so I'll save the trip report for somewhere else. I do have a few pictures to share with you, and by the end of the week I'll have them all in a Flickr photo album.



Mayan ruins in Muyil, which is between Playa Del Carmen and Felipe Carillo Puerto



Beth, the other Exitfare-er, being Beth in Puerto Morales.



Bimbo, based in Mexico, is one of the largest food corporations in the world. I first encountered this company in California, but I had forgotten about them for awhile and had a chuckle every time I saw a sign or a Chivas jersey.



Great name for condoms. Saw these at a bodega in Valladolid.



Mangrove swamp in Rio Lagartos.



On the ferry to Cozumel. To entertain us for the 35 minute ride, they had a TV going that played ads for places on the island, bits about Cozumel's history and music videos. Some of them were from American artists and others were from Mexican groups, like the glam rock Moderatto. Check out the gem I had to witness here. After viewing a few of their other videos, I think they actually are trying to be serious, although it comes off like a joke.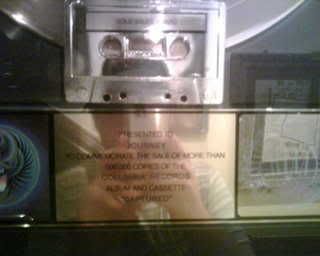 A gold record plague for one of Journey's albums at the Hard Rock Cafe in San Miguel on Cozumel.



This Week In Boston


07.30: The Automatic/The Sterns @ Great Scott
07.30: St. Helena/Foundry Field Recordings @ Middle East Up
07.31: Shout Out Out Out Out/Protokoll/Matters & Dunaway @ Great Scott
07.31: You Am I/Smoking Popes/The Appreciation Post @ Middle East Down
08.01: Army of Me/Kid:Nap:Kin/The Casual Lean @ Great Scott
08.01: Negativland @ Middle East Down
08.02: Z-Trip @ Middle East Down
08.03: The Pill @ Great Scott
08.03: Cary Brothers/Stars of Track & Field @ The Paradise Lounge
08.04: Lez Zeppelin @ Middle East Down
08.04: Cuizinier [of TTC] & DJ Orgasmic @ Great Scott