Jamie T US Release Date + Shows In Boston This Week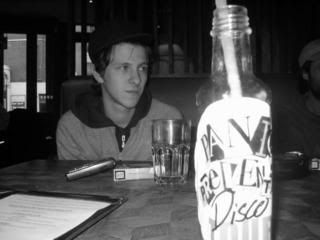 I never saw as many "WTF" looks on peoples' faces as I did during this guy's set at SXSW in March. Of course now that all of the cool kids are starting to notice
Jamie T
, we'll see those same people claim that they were the early adopters. Yeah, right...
Panic Prevention

, which won him the best solo act of 2006's NME Awards, drops in August on
Caroline
here in the States. The man and his band will be playing several shows in September where you'll more than likely be able to hear "Salvador," which was featured on Entourage earlier this year.
FALL US TOUR DATES:
Saturday, September 8 - Montreal, Quebec - Osheaga Festival
Sunday, September 9 - Toronto, Ontario – V Festival
Wednesday, September 12 – Boston, MA – Great Scott
Thursday, September 13 – New York, NY - Bowery Ballroom
Saturday, September 15 – Philadelphia, PA – North Star
Tuesday, September 18 – Chicago, IL – Schubas
Wednesday, September 19 – Minneapolis, MN – 7th Street Entry
Saturday, September 22 – Seattle, WA – Crocodile Café
Sunday, September 23 – Portland, OR – Doug Fir Lounge
Tuesday, September 25 – San Francisco, CA – Slim's
Wednesday, September 26 – Los Angeles, CA – Troubadour
[Myspace]
Jamie T
[mp3]
"Salvador"
This Week In Boston
07.24: David Vandervelde/Blitzen Trappen/Christians & Lions @ Great Scott
07.24: Chris Cornell/Juliette & The Licks @ Bank of America Pavilion
07.25: Jesse Lacey/Kevin Devine @ Middle East Down
07.25: Jenny Owen Youngs @ The Paradise
07.26: Amanda Palmer & Aberdeen City @ Middle East Up
07.26: Lucinda Williams/Charlie Louvin @ Bank of America Pavilion
07.27: The Pill @ Great Scott
07.27: Fiction Plane @ The Paradise
07.29: Silverchair @ The Paradise