The Pigeon Detectives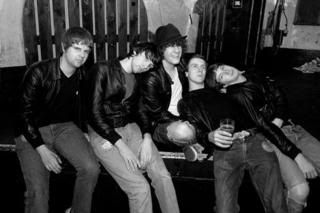 [Photo Credit: Gregory Nolan
]

To say that Leeds is exploding with great new bands would be an understatement, as it seems that each week I find another great band. The best part is that all of these great bands are not simply rallying around the flag of a single scene, but just the wealth of great ideas and an excess of energy. The Pigeon Detectives are full of this energy, playing hooky and brash '60s-inspired garage rock that is both riotous and anthemic. While mixing in well with the new lot, they're a band that hasn't forgotten about the greats, like

The Jam

,

The Kinks

and

The Velvet Underground

.

The band has dropped three singles on the consistently awesome Dance To The Radio, which is also the home to Forward, Russia!, Shut Your Eyes And You'll Burst Into Flames and Exitfare favorites Sky Larkin. "Romantic Type" is the band's next single, and it will be out on February 26th, which will coincide with a short UK tour. Band of 2007? Maybe, but they'll have to contend with their mates from around town.


"I Found Out"



[MySpace]

The Pigeon Detectives


[mp3]

"I Found Out"


[mp3]

"You Know I Love You"