GoodBooks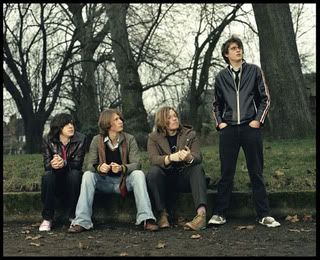 If I lived in the UK, I probably would know about
GoodBooks
already. I say this because GoodBooks has played alongside some of my favorite bands over the last few months, including
Art Brut
,
The Kooks
,
The Magic Numbers
,
Mystery Jets
,
The Rakes
,
The Research
,
The Rumble Strips
, and
The Young Knives
. Unless I was stone broke from paying ridiculously expensive rent in London, I'm sure I would have seen them play some 5 or 10 times. But I don't live in the UK. I live in a cold, windy city named Boston that was initially formed by religious folk fleeing the British, so I have the unfortunate luck of not having seen GoodBooks play. In fact, I only found out about them last night by complete accident while tooling around on Myspace.
GoodBooks formed in January 2005 and started playing dates around the UK, quickly garnering praise for their incredible live shows. By mid year the band self released their debut EP entitled
Valves & Robots
, at which time their profile really started to rise. Copies sold out all through the region, the band jumped onto bigger and bigger tours, and
The Times
even lauded them as "literate, avowedly untutored clatter." (I think that means the lyrics are intelligent, though I'd appreciate a translation from one of our British readers.) GoodBooks continued playing shows, released a one-off single on
Transgressive Records
in early 2006, and then signed to Columbia shortly after that. The band is currently working on their first full length, which will likely catapult them even further into the spotlight.
Don't believe me? Check out GoodBooks' current single "Turn It Back," a song full of musical contradictions. Although it starts with a distorted hip-shaking riff, the verses are marked more by softly delivered vocals than anything else. The driving drums pushing the rhythm forward at the chorus, accompanied by punchy guitar work and soaring vocals that hit beautiful falsetto highs. The song could certainly be a hit, played alongside the
Keane
s and
Coldplay
s of the world. If that's not your thing, then you should check out some of Goodbooks' darker material like their cover of
The Mystery Jets
hit "You Can't Fool Me Dennis." With crazy vocal counterpart and minimalist synth giving way to jaunty distorted guitar by the end, this song is an incredibly interesting remake that works even on its own merits. The Mystery Jets liked the version so much that they threw it on the b-side to their
own
single "Inside Four Walls."
Myspace
:
GoodBooks
Audio:
"
Turn It Back"