Matters + Dunaway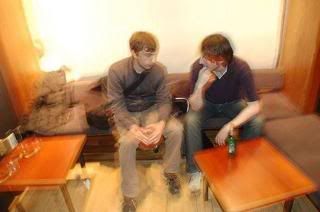 "I think we're a rock duo with elements of electronic music, but maybe I'm wrong? I know what we're not, it's harder to say what we are. Tom [bandmate Thomas Gallagher] and I like a lot of things, but somewhere around Boards of Canada seems to be where we meet up." -Andre Obin [of Matters + Dunaway] The Weekly Dig 05.11.06

Matters + Dunaway are a Boston duo that strike a balance between indie rock and form-fitting electronica to create a satisfying blend of styles that have only gotten better over the last five years. On

Hightech

, their third release, the duo evoke images of Eno and M83 in a surprisingly at ease fashion. While this is the third and final installment in the duo's "tech" series, they already have grander plans to take the world by storm. A new album will drop early next year, further cementing the group's place among electronic acts who truly feel.



Buy:

Hightech


MySpace:

Matters + Dunaway


Audio:

"Memorial"