Kasabian: New Album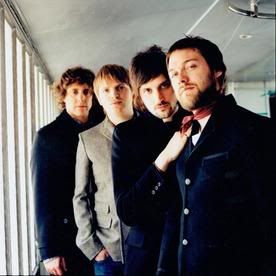 You know what pisses me off? When I am about to publish a post and my computer freezes. I was trying to rock something quick, but my computer shit the bed, so now I have to start from square one.
Kasabian may be a blip on the radar here in the States, but their debut album was huge in the UK, and with good reason -- it recalled the best parts of

Ride

and

The Stone Roses

.

Empire

is their second album and will see the light of the day on September 19th on RCA Records. The new songs are deeper and darker, and should fit perfectly in the band's exhilirating live show. Here's the tracklisting:

1. Empire
2. Shoot The Runner
3. Last Trip
4. Me Plus One
5. Sun/Rise/Light/Flies
6. Aponea
7. By My Side
8. Stuntman
9. Seek Destroy
10. British Legion
11. The Doberman

MySpace:
Kasabian
Audio:
"Empire"
Video:
"Empire"