Boston: Shows [Week of 06.12.06]
There have been a lot of awesome shows as of late --

Cold War Kids

,

Rademacher

and now

Birdmonster

tonight. After being fed up with a lot of indie rock last year, my opinion has definitely swayed.
But NYC was fun -- I spent most of my time in Brooklyn seeing friends and attending a rooftop party. Standing on the roof of a seven floor building in Williamsburg offers a pretty killer view of the city.
This week is shaping up to be a good one, and it all starts tonight.
Go see Birdmonster!
I will have a Rademacher show review up this week.
[Photo Credit: Julie Schuchard]
06.12:
Birdmonster
/
The Talk
@
Great Scott
The most blogged about band of the year finally makes their way to Boston with a headlining gig at Great Scott. All of those kids that have been doubting what the West Coasters and SXSW attendees have been saying can now come out and see the proof before their eyes. All of the hype is completely for real.
Audio:
"Spaceman"

06.12: The Boy Least Likely To/Pants Yell! @ T.T. The Bears

06.13: The Bellrays @ Great Scott

06.13: Tilly & the Wall/David Dondero @ T.T. The Bears

06.14: The Starlight Mints/The Octopus Project @ Middle East Up

06.16: Taxpayer @ T.T. The Bears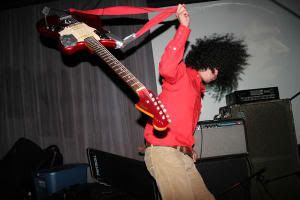 [Photo Credit: Mark Hunter]

06.16:
Protokoll @
Great Scott
If I gave out an award for this year's best Boston band, it would be these guys. Their EP is insanely catchy, they're huge in the UK and their live show is one that is not to be missed, filled with wiry energy and a crowd that knows how to move.


Audio:
"Moving Forward"
06.17: Sam Roberts/The Damnwells/Slow Runner @ T.T. The Bears