The BellRays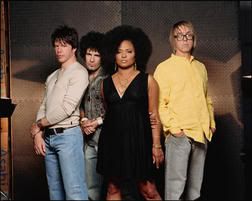 Look at this band. The BellRays are a group of musicians that have been around the block and have fallen on a hard time or three, yet lived to tell about it. You can hear it all over their new album,

Have A Little Faith

, a record that cobbles together all of the greatest moments of rock, soul and blues to form a sound that is uniquely comfortable.
May 11 Santa Barbara, CA TBA
May 12 Los Angeles, CA Safari Sam's
May 13 San Diego, CA The Casbah
May 18 Portland, OR Dante's
May 19 Seattle, WA Sunset Tavern
May 21 Bellingham, WA The Nightlight Lounge
MySpace: The BellRays
Audio: "Maniac Blues"
Audio: "Third Times The Charm"