SXSW: The Recap
Today has been a day of transitioning back into the norm after a long week of drinking by noon, music all day, hanging out with friends new and old and all night parties. My week at SXSW was awesome on so many levels, but it's good to be back despite the just slightly above freezing temperatures in Boston. I am not going to spend a lot of time with the whole recap thing, but I am going to throw down my highlights. Big thanks to Chris at Gorilla vs. Bear and his girlfriend, Melissa, for the wonderful Cajun dinner on Wednesday, and to Ashley for the pictures below [and for being just great people]!

-I loved my hotel on 2nd & San Jacinto -- easy to get to and from most of everything
-the festivities began on Wednesday at Emo's with a performance from What Made Milwaukee Famous and ended early Sunday morning just after 2 am with a blistering performance from Sway at Caribbean Lights.




-Austin's Sound Team are about to blow, and you could hear all of the early rumblings last week. I saw them three times -- their show Wednesday at 3 pm at Emo's, midnight on Thursday at Buffalo Billiards and the insane kegger at their Big Orange studio, which was fitted with a large yard to party in and a wall of TV's. Locals Voxtrot followed that night, another band that is definitely worthy of all of the recent buzz.


Audio:

Sound Team "Your Eyes Are Liars" [off of the new album!]


Audio:

Voxtrot "The Start of Something"




-What can I say that I haven't already said about Birdmonster? Their songs are great, their live show is one of the best I've seen in awhile and they are the nicest guys ever. Dave from the band called me around 3:30 on Wednesday afternoon to let me know that they had been added to a show at the Red-eyed Fly at the last minute to replace Diamond Nights [I think?]. The venue quickly filled up, and by the time the boys launched into "Resurrection Song," all eyes were on them. Unfortunately, their set was cut short when a cymbal stand crashed down on a cord during the brand new "Ice Age." They got to play a full set the next day at the Fader/Levi's Trading Post and then on Friday at the Hell Ya! showcase, with the final set being sort of a blogger pow-wow.


Audio:

"Resurrection Song"

-Also shockingly awesome that day: Cold War Kids. This band has a way of evoking a feeling and sucking the listener in at the drop of a hat. I need to see this band again!

-I caught the end of Oppenheimer's set on Friday at Friends, and it gave me even more reason to look forward to their debut this spring.

-The Others played their second ever U.S. show on Wednesday night, and despite Dominic seeming a little tired, it was not a disappointment. They mixed new songs with songs like "Lackey" and "Stan Bowles."

-¡Forward, Russia! had some equipment problems on Saturday, but after getting that squared away, they bounded about the stage with energy and played all of my favorite hits that I can't keep straight because their song titles are numbers. According to their webiste, it looks as though they are going forward with self-releasing their debut LP.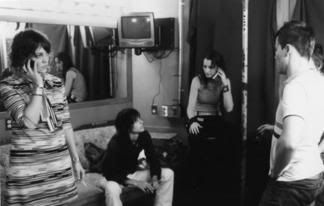 -I spent a lot of time with Jonny and the rest of The Twenty Twos, from the botched party on Wednesday to an awesome Chinese dinner filled with wine and video cameras on Friday to their great set Saturday night at Buffalo Billiards. Some of my best times of the week were with this band and I am glad that I got to know them better. One thing I will reveal: lead singer Jenny Christmas is from the same county in Pennsylvania as me. But I am not telling where their name comes from.


Audio:

"She Does"

-Saturday's Yep Roc showcase was impressive with American Princes, Cities and Billy Bragg.

-Dinner with Chris, Melissa, Dodge and MJ on Wednesday, hanging with Ashley and meeting Mark at Music For Robots, a blog which I really need to spend more time with. Friday morning's FMA-sponsered Blogger brunch was another highlight -- I got to meet a ton of great people [and drink free beer before noon], but it allowed me to catch LA's Silversun Pickups, whose album later this year will undoubtedly capitalize on last year's standout

Pikul EP

.

I know I am forgetting things, people and places, but so much went down, and if I forgot you, I am sorry. Good thing is that I am not going to run out of new music to post about for quite some time! I think tonight will be another early bed time for me...