Sure Juror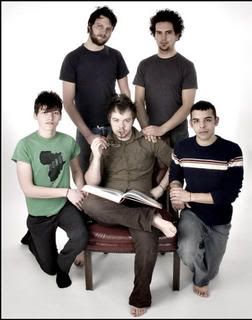 When I first
posted
about this band back in June, my blog was a mere few weeks old and I was one of the few people championing
Sure Juror
, despite one of the members getting me temporarily kicked off of my college's radio station [it was all an accident though]. Now that the band is on fire, I thought I'd revisit their album that has been knocking around for about a year. Someone asked me what they sounded like yesterday and the best desciption I could come up with was "Neutral Milk Hotel on speed" and the more I think about it, all I can say is that I was spot on. Oh yeah, and guys, come to Boston. Please?
Mar 24 2006: Fennario West Chester, PA
Mar 27 2006: 1619 House Williamstown, NJ
Mar 31 2006: 11 East Cafe Glassboro, NJ
Apr 1 2006: Bryn Mawr College Bryn Mawr, PA

MySpace: Sure Juror
Audio: "Gawd"
Audio: "The Drive Will Do You Good"