Kunek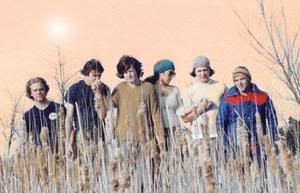 On the band's MySpace page, Kunek describe themselves as "a collective of artists, coming together to share their individual visions as one, and to add beauty to this world. Poetry, art, and music aren't separate entities, staring at each other from across a crowded dance floor. Rather, they create a circle of friends, protectively holding each other close, feeding off of the positive energy their togetherness creates."

It may seem a little lofty, but the band pulls it off by evoking images of Coldplay [whatever, they're great], Damien Rice and the Guillemots -- it's perfect music for those rainy Sunday afternoons. The band won the hearts of attendees of SXSW this year, and you can hear why on their album

Flight of the Flynns

.

Apr 22 2006: The Opolis Norman, OK
Apr 28 2006: Mike's College Bar Stillwater, OK

MySpace: Kunek
Audio: "Bright Eyes"