SXSW Preview: Lady Sovereign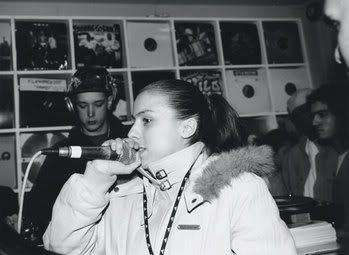 Recent cover star of every magazine on both sides of the pond, Lady Sovereign is about to make her back to the States with the release of

Public Warning

this spring on Island/Def Jam and a slew of live dates, including SXSW. While the last string Ms. Harman's shows here weren't the most successful, hopefully practice will make perfect. Or maybe Jay-Z and Usher gave her some tips!

Whatever, let's just hope her shows are more like her recent Boston and NYC appearances and less like the debacles in Philly and San Francisco because you can not control the wrath of angry hipsters.



Mar 16 : SXSW Lady Sovereign & DJ Frampster (DJ SET ONLY) - URB Party @ Beauty Bar (4:00pm)




Mar 16 : SXSW Live Performance - Vice Party @ Victory Grill (7:15pm)




Mar 17 : SXSW Live Performance - Stolen Transmission House Party (Secret Location - 10:00pm)




Mar 18 : SXSW Live Performance - Fader Party @ The Levis/Fader Trading Post (2:30pm)




Mar 18 : SXSW Live Performance - MTV2 Show @ La Zona Rosa (11:00pm)


Mar 25 : M3 Summit, Miami
Apr 29 - 30: Coachella Festival, California

MySpace: Lady Sovereign
Audio: "Public Warning"
Video: "9 to 5"