Every Move A Picture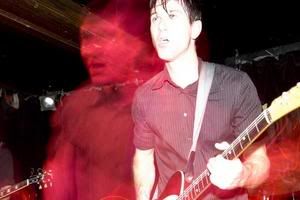 San Francisco band Every Move A Picture has yet to receive much press in the States, but they have gained quite a following in the UK. Their sound melds the looseness of Duran Duran with the post-punk tendencies of Gang of Four. Their debut album should see the light of day this spring on V2 Records and you can catch them on tour with the Electric Six this spring!

Wed 03/08/06 San Diego, CA The Casbah
Thu 03/09/06 Santa Ana, CA Galaxy Theatre
Fri 03/10/06 West Hollywood, CA Key Club
Sat 03/11/06 San Francisco, CA The Independent
Mon 03/13/06 Portland, OR Douglas Fir Lounge
Tue 03/14/06 Vancouver, BC Richard's On Richards
Wed 03/15/06 Seattle, WA Neumo's
Thu 03/16/06 Boise, ID Neurolux
Fri 03/17/06 Salt Lake City, UT Urban Lounge
Sat 03/18/06 Denver, CO Larimer Lounge

Buy:

Opposition Party EP


MySpace: Every Move A Picture
Audio: "Signs of Life"