Flashback Tuesday: Jason & Alison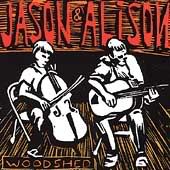 With us bloggers, most of the time our focus is on what's new, and while that is awesome, I don't want to forget about some of the great bands of the past. Each Tuesday, look for a profile about a band that has broken up or one that most of us has forgotten about. I have a ton of CDs that I used to love that are gathering dust, so it will be a good way to illustrate my musical evolution to everyone.

I am not going to reach back that far today, but this is a group that has been forgotten about nonetheless. Jason & Alison formed in the early '90s in Evanston, IL, when guitarist Jason Narducy met cellist Alison Chesley, who was studying at Northwestern University's School of Music. They released one album, Woodshed, in 1994 on Whitehouse Records of songs that range from the understated to buoyant, each tackling love and loss expertly. The duo went on the form the backbone of Verbow, while Narducy also spent time in the band On. His latest project is Rockets Over Sweden.

Buy:

Woodshed

[I am pretty sure this is out of print]
Audio: "Letter From Florence"
Audio: "Time To Realize"