Cities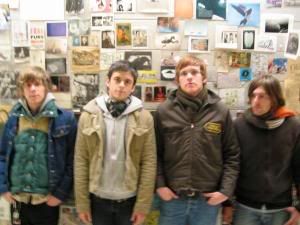 North Carolina label Yep Roc is known for their quality bands that bring a healthy sense of history to the table, like The Minus 5, Bob Mould and Paul Weller. On the other hand, Chapel Hill band Cities are an entirely different lot -- they are young, brash and play crunchy indie rock with enough passion to make history of their own. Check them out on the road this spring, and look for their self-titled debut on April 18th!

02-27 Carrboro, NC - The Reservoir [w/rahim]
03-15 Austin, TX - Friends [Yep Roc SXSW Showcase]
03-15 Austin, TX - TBA [Fader Party]
03-18 Austin, TX - Yard Dog [Harp Magazine / Yep Roc Party]
03-25 Athens, GA - Tasty World [w/an epic at best]
04-14 New York, NY - Knitting Factory [w/Audible, Cataract Camp]
04-15 Bronxville, NY - Sarah Lawrence College [w/Cataract Camp]
04-28 Chapel Hill, NC - Local 506 [cd release party w/Fin Fang Foom]

MySpace: Cities
Audio: "A Theme"