You only miss Lifetime twice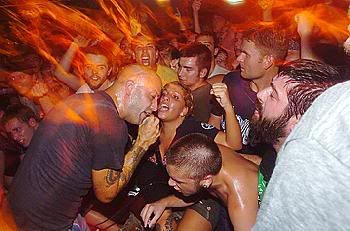 In August of 2005, I was getting ready to leave for California. Claremont Graduate University had accepted me into their Cultural Studies program and it was too good of an opportunity to pass up. Meanwhile Lifetime, the greatest Jersey Hardcore band of all time was gearing up for a few reunion shows in Philly.
Scheduled to perform at the August 2005 Hellfest in Trenton, NJ, Lifetime's performance was one of the show's major draws. But just two days before the event, Hellfest was cancelled.
MTV News reported, "Sovereign Bank Arena required Hellfest's organizers to obtain policies from an "A8 rated" insurance company, which VanderPoel admits was never done. But he told the paper that the arena never specified what rating the insurer needed to have. He was notified Tuesday morning, via fax, of the insurance snag and was given until Wednesday morning to right the alleged wrong, or Hellfest would be buried."
Following the cancellation of Hellfest, Lifetime and R5 Productions quickly put together 3 shows for that weekend, a Friday and Saturday show in Philadelphia and a Sunday show in New Jersey.
The three Lifetime shows were rumored on Wednesday and finally announced on Thursday. By Friday they were completely sold out.
If it had been any other weekend, I probably would have been at every show. Unfortunately, it was the weekend before I was moving across the country. I had things to do, goodbyes to say, plans to keep.
When I left for California, I left Lifetime behind me too. Or so I thought. After coming back from my winter break, I discovered that Lifetime was playing 3 more reunion shows on the west coast. Even before I could get my hopes up, All three shows sold out.
Lifetime called it quits the first time before their 2nd disc came out in 1997. They were gone before the first time I heard them. In March they are supposed to tour in support of a new double of CD of old material.
You only miss Lifetime twice right?
Somewhere in the Swamps of New Jersey on Jade Tree Records will be released March 21, 2006.
Reporting From California,
Joey Coombe
[Quick note: Joey is a friend of mine from my days at WCUR and he was my Assistant Music Director before he became GM. The highlight of our relationship was the DC vs. NJ show we did in late 2003.]