The Joggers News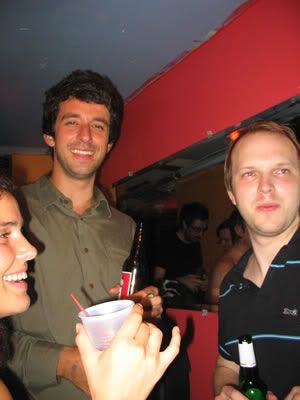 Looks like The Joggers are up to their old tricks, and we all know what that is -- rocking our asses off! Here is some news from the latest Star Time dossier:
"It seems like the whole world is gearing up for the musical juggernaut known as South by Southwest. And why not? The festival just gets better every year. So with that in mind, the Joggers have announced their first set of dates leading up to the big shindig. After Texas they'll be heading to the East Coast to tear things up so look out!
See this band!
Mar 10 2006 8:00P UC DAVIS Davis , CA
Mar 11 2006 8:00P Bottom of the hill San Francisco, CA
Mar 12 2006 8:00P the echo Los Angeles, CA
Mar 13 2006 8:00P CASBAH San Diego, CA
Mar 14 2006 8:00P Vaudeville cabaret Tuscon, AZ


Mar 16 2006 8:00P SXSW Austin, TX


Mar 19 2006 8:00P Walter's Houston, TX
Mar 21 2006 8:00P The Earl Atlanta, GA
Mar 23 2006 8:00P Black Cat backstage Warshington DC, DC
Mar 25 2006 8:00P ROTHKO NY, NY
Mar 26 2006 8:00P Bar Night club New Haven, CT


Mar 27 2006 8:00P Middle east (U) Boston, MA


Mar 31 2006 8:00P Schuba's Chicago, IL
Apr 3 2006 8:00P O'Leaver's Pub Omaha, NE
Apr 4 2006 8:00P Larimer Lounge Denver, CO
Apr 5 2006 8:00P Kilby Court Salt Lake City, UT
By the way, we're not lying low this SxSW so stay tuned for more exciting details."
Audio: "Era Prison"
Video: "Hot Autism [Quicktime]