Run the Road & Grime in the 2k6.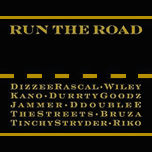 On Pitchfork's year end top 50, the first Run The Road compilation made the cut at #13, but with what was essentially a back-handed compliment:



"Ha ha, remember grime? That late-nite p2p fight to stay tops on some fast-paced, viciously insider teen-scene, one that's thousands of miles away, hocked in new code daily with so many "key" players that the keyest of them's fantastic 679 debut, Kano's Home Sweet Home, somehow passed us by quicker than a Sheek Louch freestyle? This youthful genre's endless fountain of new means, possibly, endless rewards, but for how great some of these beats come, most grime kids still can't rhyme. The disillusion that followed from there, frankly, has been unfair-- so much of what we're hunting down, from what I can tell, is brute learning on the job, sometimes nothing serious at all. Which makes Run the Road invaluable not just as a one-stop-- all the cuts hit really hard, good rhymes, none of that grime&b shit-- but ideally as something of a standard bearer, a Now That's What I Call Music! we're not embarrassed to buy. Some people hacked at RtR because it was so out of date upon release-- some of these tracks are a few years old-- but run the numbers, that's probably why it's so damn great, too. --Nick Sylvester"



I really feel sorry for kids that take whatever Pitchfork says as gospel, and my fear is that many kids are going to eschew some of the great grime releases from this past year and those that will drop this year because of the P-fork dis. While the Kano album may have been dissed here, it's an album this is not to be missed, along with The Mitchell Brothers disc and fabulous Roll Deep album. This year should be even bigger with stuff on tap from Dizzee Rascal, The Streets and hoprefully a new Run The Road comp.

Here's some other stuff that should be going down soon
-Paperchase Recordings has put out a compilation of all of Davinche's Dirty Canvas 12"'s called Dirty Canvas: The Legacy. It came out on October 31st.

-Katie Pearl's debut album will drop on
Paperchase Recordings. She's previously guested with Kano and Ghetto, among others.

-Sway will have an album out next month.

-Baby Blue has just released the Out of the Blue Vol. 2 mixtape
and is popping up as a guest all over, especially with her bro Sway.

Audio: Sway "Little Derek [f/ Baby Blue]"
Audio: Roll Deep "Bus Stop"
Audio: Ghetto "Run The Road [f/ Katie Pearl"
Video: Baby Blue "Sometimes/I Still Don't Care"