Birdmonster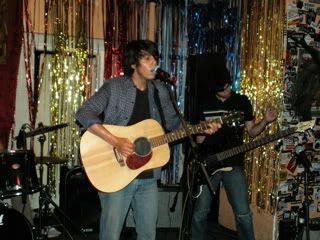 I have been holding off on writing about this band for awhile for three reasons:
1. I was caught up with a crazy summer, so they slipped through the cracks.
2. Everyone else started writing about them, so I didn't want to contribute to overkill
3. I didn't know how to translate my thoughts into words...until last night.
I was on my way home from Shaw's and listening to my "2k6" mix and Birdmonster's "All The Holes In The Walls" came on and I was just floored. I've listened to this song before, but it just hit me how this band is able to harness that way you feel after one of those amazing late summer nights. Just picture it in your head: you're still buzzed, it's muggy as hell and you have a long subway ride home. The night's over, but somehow you don't want it to end.

Birdmonster's songs are beautiful snapshots of these slices of life, and if their EP is any indication, this is a band that will be knocking around for quite some time. They're recording their debut album now--check out their blog for updates from in the studio.

Also, they're gonna be playing out. Here are the dates:
Jan 30 2006: Spaceland (21+) Los Angeles, CA
Feb 1 2006: The Mezzanine (Bagel Radio 3rd Yr. Anniversary Show) San Francisco, CA
Feb 4 2006: The Kazem (all ages!) Brentwood (not L.A), CA
Feb 11 2006: The Metro (all ages) Oakland, CA
Mar 3 2006: Cafe du Nord (21+) San Francisco, CA
Mar 4 2006: Tokyo Garden (w/ Rademacher) Fresno, CA
Mar 6 2006: The Echo (free show!) 21+ Los Angeles, CA
Mar 10 2006: The Cavern (Gorilla vs. Bear Showcase) Dallas, TX

MySpace: Birdmonster
Audio: "All The Holes In The Walls"