Against Me! News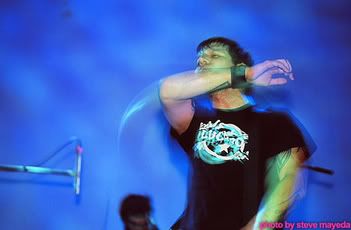 According to CMJ, Against Me! has signed to Sire Records. I know this is a couple weeks old, but AM! doesn't seem to be "blogger cool" these days, so I haven't seen much discussion on the matter. It's sort of a surprising move considering the exposure the staunchly independent band had gained on Fat Wreck Chords. I've heard two songs from their latest album on commercial radio, seen a video on M2 and press in a million magazines, so really, what sort of additional platform does a major label offer?

Don't get me wrong, I don't hate major labels. In fact, I think they serve purpose and can work quite well for bands, and there are plenty of musicians on majors that I respect and enjoy. The thing with AM! is that they more or less stated that majors weren't their deal and built a successful niche for themselves outside of the mainstream, and as this past year has shown with artists like Clap Your Hands Say Yeah and Sufjan Stevens is that it is possible to be successful on one's own terms.

Audio: "Pints of Guiness Make You Strong"
Audio: "Cliche Guevara"
Audio: "Miami
Video: "Don't Lose Touch"