Stricken City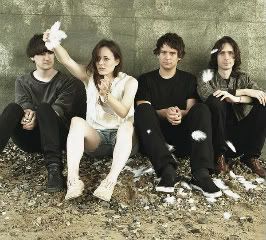 [Photo Credit: Sam Seager]
Myspace
//
"Don't Spit at Her Face"
[Audio]
Whether it's pop or indie, I can't really say, but there is really something effortlessly classic about the tunes that London-based Stricken City create. Their quirkiness rarely, if ever, becomes too obnoxious for their own good, and it allows them to fit in nicely next to bands like Amazing Baby and Land of Talk.
The band are set to release an 8 song EP through
Pure Groove
on 12 October, a gatefold CD/DVD package in very limited physical quantities. Pre-order your copy now and get a high-quality digital download on 14th September. A U.S. vinyl release will follow on 3rd November through
The Kora Records
.
Labels: London, Pure Groove, Stricken City