Spindle + Wit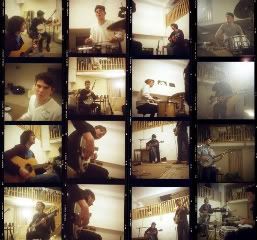 [Photo Credit: Luke Thornton]
Myspace
//
"New Skin of Mine"
[Audio]
We know that London outfit Spindle + Wit are active and gigging, but why does their Myspace page go untouched? Do they not want people finding out about them? Maybe they want to remain a secret, but really, that would be just a shame. It appears that the real action is taking place over at their
blog
, where you can read about recent mentions in The Fly or a brushes with fame with Pixie Geldof.
The band is another folk-pop group to keep an eye on, one that spreads a bit of sunshine on the sound mastered by Mumford and Sons, amongst others. Their video for "Bring Out the Sun" (no word on completion date) will feature Noel Fielding reprising his moon character from

The Mighty Boosh

.
Labels: London, Mumford and Sons, Spindle and Wit, The Mighty Boosh