Jamie T: New EP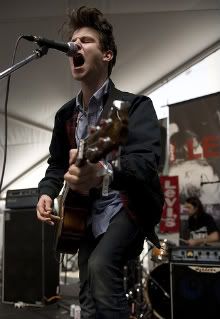 Myspace
//
"A New England"
[Audio]
I've been slowly preparing a pretty massive
Thamesbeat
post, just sort of catching up on things and tying up some loose ends on the scene that is really not a scene. Although Larrikin Love flamed out quickly, some of the other bands still quite active, including Jamie T.
You may remember his free track/video
"Fire Fire"
from earlier this year, but this track, which was Jamie's gift to fans for being so patient (not like we have a choice, yeah?), will not appear on his next album or preceding EPs. He's been doing a few random gigs, but this June will see a proper run throughout England, starting in the beautiful city of Leeds. And we're not joking about the beauty of Leeds -- remember, this is Exitfare, and we love West Yorkshire.
His next official release comes out 29 June, an EP entitled

Stick N Stones

. The title track has surfaced in various spots on the internet, and it is classic Jamie T and his perfect mixture of several different styles. The not quite rap, not quite indie, not quite garage concoction may be tough for some to take at first, but this is the reason why people get so excited about this guy. It's a sound that you've never heard before, and despite the stylistic mosaic, you can't deny catchy songwriting.
Posted is an old b-side -- those
blogs
that like adventures with the RIAA may still have a radio rip of a new song. Enjoy.
Labels: Jamie T, new album, Thamesbeat