Still Life Still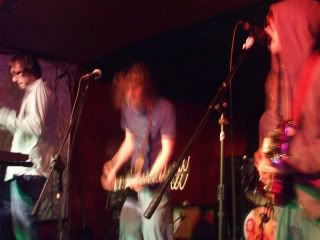 Myspace
//
"Knives in Cartoons"
[mp3]


Much like Pop Montreal last October, NXNE had me in a "kid in a candy store" mindset. I had three days and nights ahead of me that was all music, friends and beer, and what's not to like about that? While there were some big names playing, like These New Puritans, French Kicks, Swervedriver and We Are Wolves, I was more interested in the hidden gems as most of the bands I had on my schedule I only discovered a week or two prior.


East York, Ontario band Still Life Still was the weekend's anomaly because I only found out about them the night of their set at Cameron House, as they played to a rambunctious packed house on a stage that was way too small to fit the indie rock mess that they had going on. These guys are young, making noise similar to Annuals, but a whole hell of a lot more interesting. Outside of The Books Elusive, this group put on the best performance of the weekend.
Labels: Canada, NXNE, Ontario, Still Life Still