Mystery Jets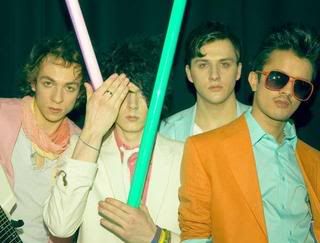 Myspace // "Half in Love with Elizabeth (Demo)"

I saw Mystery Jets play last month during the Great Escape and it was an experience. A group of university students next to me were mixing pills with copious amounts of booze, while others were hurling half empty beers on the audience. I got shoved twice nearly to the point of falling over when separate groups of boys tried to inch their way closer to the stage. Incredibly, these experiences were not the most memorable parts of the night by a long shot. For once, a band overshadowed a bad crowd (and not the other way around).

Mystery Jets are a rare band that can straddle the line between numerous genres with the utmost of ease. I swear their second album,

Twenty One,

runs the gamut between 80s synth pop ("Two Doors Down"), percussive indie rock ("Hand Me Down"), grander ballads ("Flakes"), and even minimally orchestrated indie pop ("21"). Somehow, it all works and the album comes together as one cohesive artistic statement. I think the only common elements between the songs are the musicians playing on them and the fact that they're so infectiously catchy that you can't stop listening.



Twenty One

is quickly becoming a contender for my favorite album of the year. I wish that the band would come to the US for a tour soon, because I'd love to hear their electrifying set one more time and have a sweaty dance party in the crowd. Mystery Jets will be playing the Rockness Festival in Loch Ness this weekend, which should prove to be a great time because you can 1) listen to some great bands play like Editors, CSS, Noah and the Whale, and Late of the Pier and 2) search for Nessie. I'm totally jealous.

Labels: CSS, Editors, Late of the Pier, Loch Ness Monster, Mystery Jets, Noah and The Whale, The Great Escape